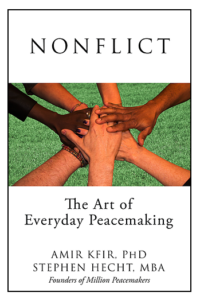 How to Transform Conflict into Nonflict
Doing research about conflict I came across "Nonflict". I immediately ordered the book and read it. I was so fascinated about the simplicity and effictiveness of this method that I decided to become a "Certified Nonflict Coach" and empower my clients even more to overcome conflicts in business, in family and in person.
The Method
Three simple and powerful steps to transform conflict into Nonflict
The Nonflict way is a simple and effective 3-step method that provides a structured approach to conflict resolution. The steps lead people to understand themselves and one another, then to discuss their shared reality, and finally to take active steps to co-create their ideal reality.

Million Peacemakers is a Non-profit organization founded by Steven Hecht, Dr. Amir Kfir and Frederic Latreille. Million Peacemakers Mission: Create a culture of peace in the world by empowering people to transform Conflict into Nonflict.
In May 2012, Stephen Hecht as Education Chair for YPO Gold Canada and corporate transformation expert, Dr. Amir Kfir led a YPO event called The Art of Peace in which they trained 700 CEOs, their spouses, and young adult children in Nonflict.  It received a record 6 'Best of Best" international awards for Leadership Development.  Stephen and Amir then replicated this event worldwide, training hundreds of CEOs in the U.S., India, Tanzania, Dubai, Israel, etc. In August 2014 Stephen, Amir, and Frederic Latreille co-founded Million Peacemakers.
There are currently over 145.000 peacemakers trained in Nonflict worldwide.