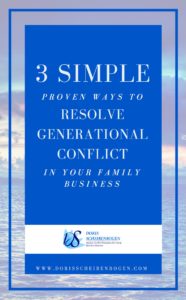 Is Your Business Going Through The Succession Process And Causing Conflict?
Read this short report giving you three simple ways to resolve generational conflict in your family business.
I share my experience from lifelong, up-close contact with family businesses to show you how to benefit from conflict and move through it in a positive way.
Are you sick and tired of conflicts in your family business that are giving you sleepless nights?
Are you longing for a harmonious family business and a motivated team with high performance?
Is your company out of balance, in conflict or unhappy?
Have you come to the end of the line, trying to resolve the issues you have?
Are you considering drastic options such as winding up the company, splitting the business or having family members leave the business?
Not only are the owners unhappy, but the situation is affecting the employees and the performance of the business?
---
Sounds like you or your business? Get In Touch Today:
---
If any of these scenarios sound like you or your business, you are in the right place! I can work with you to create an harmonious work environment  – a place that you all look forward to going to every morning. You will feel motivated everyday and know that everyone, staff included, is pulling towards the same end goal.
Not only is the company a family run business but the whole company will feel like it's one big family. Your business will grow and life within the family, outside of work, will drastically improve too!
If you like the sound of all that, click here to book in for an Intuitive Conflict Resolution Session. We can discuss the issues you are having and decide on how you can resolve those.
---
Insider Knowledge of the Family Run Business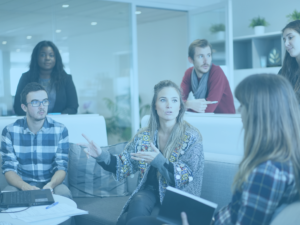 I have walked in your shoes.  I am a family business owner as well as being a family business consultant for those wanting to resolve conflict.  I know exactly what issues a family run business faces and how to resolve them quickly and successfully. Family business is in my blood. My grandparents and my father had family businesses which I grew up with. I love working with family businesses!
---
The Types of Conflict We Can Resolve Together
Succession planning – Are you in the process of transition? We work on your values and visions. We create your definition of success and your uniqueness which are the gifts you tribute to the company. According to the Small Business Administration more than 70% of all family businesses do not survive through the second generation, and 8% do not make it to the third. Make sure that you are one of the survivors.
Communication – Do you communicate online instead of having personal conversations? Communication is the key to avoid conflicts, solve issues and to lead in harmony.
Life/Work Balance – Are you a working Mom trying to make it right for everyone? We all know that women can handle more than just one task but sometimes it all gets a little overwhelming. We will work out a plan together  that gives YOU, your family and the business the balance you all need to be happy. 
Environment – Could your physical business space be holding back your business? Do you want an inspirational environment for you and your team? The environment is the mirror of  your heart and soul. It is important for your success and your team to work in a friendly and open place.
Are you struggling with traditional gender roles? Women are important to the family business but often are invisible, staying in the background. If that is you and you are unhappy with that position, I can support you in using observations, intuition and emotional capital to make a difference between success and failure of the family firm. Not only that you will feel more fulfilled and motivated too!
Other Conflict Resolution Situations – I can also support you with leadership training, employee productivity, role confusion, planning for a crisis. Are you afraid to step onto an emotional minefield? Welcome those conflicts – because, ultimately, they lead you to solutions and help you and the company to grow. We look at every conflict and only finish when we have all the solutions.
---
"Out of the top 100 family businesses, only one has a female CEO"